The program ExplorerClient.exe is the module that allows the customer's controlled access to the workstation. Once launched, the program takes control of the machine and prevents the user from doing anything that could damage the Windows configuration (deleting system files, accessing the hard disk, task manager, etc.). From then on, the computer can only be used to navigate or to run other programs selected by the system administrator. Closing the program requires the administrator's password, which is set to "password" by default.
Once launched, the program automatically configures itself, locating server over the network. By clicking "Configure" (administrator password required), you can set ExplorerClient.exe to run automatically and the local path to permitted applications (if other than the default).
At this point, the workstation is ready for use. To start navigating, the customer enters his username and password or inserts his Smart Card.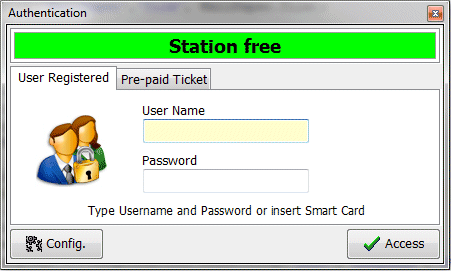 As soon as he logs in, a TaskBar appears in the lower part of the screen that is just like Windows'.
The right side of this bar displays connection information, such as: connection time, credit used, residual credit and user name connected.


On the left side of the TaskBar, the classic Windows Start button is replaced by a Programs button that allows access to a limited number of applications/utilities that are enabled for the user (the default is Internet Explorer, only).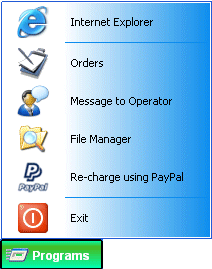 In addition to the permitted applications, the following items appear for all users:
Exit: allowing the customer to disconnect.
Orders : allows sending an order by choosing a product from the price list.
Message to the Operator: allows opening a chat session with the operator of the premises.
File Manager: access a "secure" File Manager used to organize and/or copy the files in the customer's User Drive. These can be documents that the customer created or downloaded from the Internet, etc.
Recharge using PayPal or a credit card : permits the user to re-charge credit using a PayPal account or a credit card.
Softvision - Via Cesare Battisti, 101 - 67051 Avezzano (AQ) ITALY - P.IVA 02081660660 | Privacy Policy - Cookie Policy