Hotspot, Call Shop and Cyber Café Software : Configuration as Internet Cafè
Softvision Explorer consists of five software modules :

Explorer Server 4 :

Softvision Explorer server module


Explorer Manager 4 :

administration programme to control connections and manage users.


Explorer Client 4 :

allows customers to navigate and protects the machine it is installed on.


Explorer Printer Monitor 4 :

allows monitoring of customers' print jobs.


Explorer Coins 4 :

allows a computer with an electronic coin acceptor to be set up as a re-charge workstation.
The Server and Manager modules are to be installed on the computer used as the server while Explorer Client must be installed on all the stations used for surfing. Instead, the other two modules are installed using the ExplorerPrinterMonitor.exe and ExplorerCoins.Exe installation programs. The Printer Monitor must only be installed when you want to monitor USB printers connected to computers that don't execute any other modules (Explorer Manager, Explorer Client or Explorer Coins). Lastly, Explorer Coins should be installed on computers with an electronic coin acceptor, to be set up as a recharge workstation.
Now we will look in detail at how an Internet Café management system must be structured.
The premises must have a network with a computer, with Explorer Manager installed, acting as a server and all other computers used as navigation workstations. The latter must have Explorer Client installed.
All the computers are connected to the network through a router or switch. Generally the router includes an ADSL modem which makes the connection to the internet, but any other device may be used for the connection, for example an Ethernet modem, USB modem etc.
The following diagram illustrates this configuration :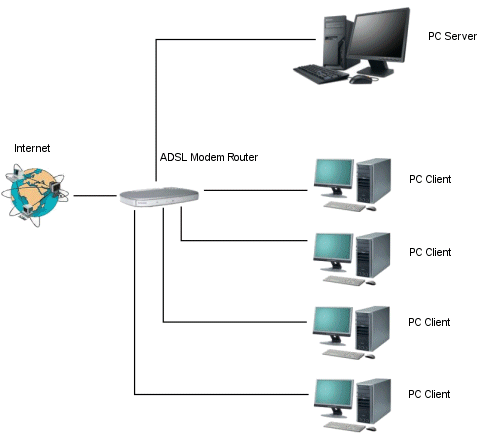 For the configuration of the router/modem and network cards there are no particular instructions : any address space which is assigned statically or by the router's DHCP server may be used.
The configuration we have just seen is normally used by the Cyber cafe module of Softvision Explorer. An interesting feature of this configuration is that the server does not necessarily need to be present in the local network, but may also be remote.

Softvision - Via Cesare Battisti, 101 - 67051 Avezzano (AQ) ITALY - P.IVA 02081660660 | Privacy Policy - Cookie Policy