Hotspot management for WI-FI access using a second network card or wireless router with firmware DD-WRT, CoovaAP or other RADIUS devices (Miktrokit etc.)
Access, MySql and Sql Server
database support
Navigation mode : pre-paid, post-paid, by time, traffic, subscription or free.
Management of automatic recharges using Paypal or Credit Card .
Firewall on ports, URL, IP and keywords .
Band limitation for uploads and downloads .
Complete management of customer data with the possibility of directly scanning documents.
Information on the user with notification of notes present, documents missing or disabled users.
Optional expiry date for user accounts.
Organization of users in groups, with the possibility of setting various permissions or permitted applications for group members.
Users can navigate on a limited number of sites with external links disabled.
Hourly or "step" rates.
Rate Plans : you can apply different rates based on the day, time or customer.
Archive analysis : recharges made by a customer, credit used, printing etc.. with exporting of results in Excel, in Html and in text format.
Use and financial statistics.
Customizable user card printing.
Manual or automatic backup with the possibility of directly burning data on CD or DVD.
Periodic compacting of programmable archives.
Receipt management.
Checkout management : opening and closure, automatic management of recharge and subscription renewal operations, manual operations and checkout analysis (balancing).
Management of operators with customizable permissions.
Mac Address White List : you can specify the Mac Addresses that can navigate the hotspot without authentication.
User parameter alignment.
Multiple servers : sharing of users among different sites.
Notifications of customizable events : post-paid log-out sessions, customer login with notes etc.
Setup wizard : guide to starting program configuration.
User Record
This function specifies the customer's master file data and the way he can use the workstation to navigate.
The window is divided into 5 pages: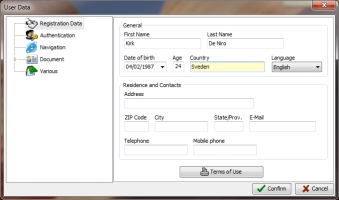 Registration Data : The customer's registration data must be entered on this page. It is also possible to gather other data about his residence and possibly contact information (e-mail and telephone).



Document : This section allows gathering all the information on an identity document: type, number, date and issuing agency. The two sides of the document can be scanned in the pages "Front Image" and "Back Image".



Authentication : This section is used to specify the customer's username and password.



Navigation : This page has options that control how the user can navigate.

Note : In this last page, records can be added about the user.
---
User Management
This section of the main window displays the names of customers in the archive together with their balance due and navigation method (prepaid, post-paid, traffic etc..). If the customer has a negative balance, the figures in the Balance Due column are red. This normally happens when customers are navigating in post-paid mode.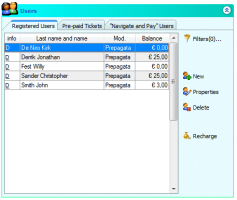 There is a search box in the upper part of this section that is very useful for quickly finding a customer by simply typing the first few characters of his name. More...

---
Archive Backup
Backing up the program archives is of vital importance for a variety of reasons. In fact, in the case of lost data due, for example, to a hard disk failure (an event that is hardly rare), all the users' data would be lost. This could lead to more or less serious problems: for example, should all customer receivable data be lost, you would not be able to provide session data to the courts, not to mention scanned documents, registry master file data, etc.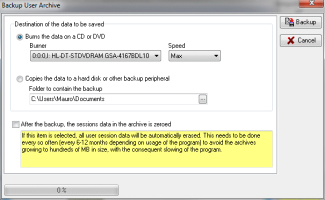 For this reason, Explorer Manager provides a variety of functions dedicated to safeguarding the data and, thanks to which, it is possible to quickly restore the archives if they are damaged. More...

---
Navigation Rate Plans
The Rate Plans are entirely similar to those that phone companies use to decide what rates to charge the customer when he makes a phone call. Softvision Explorer uses them to determine the rate the customer will be charged when he accesses a workstation.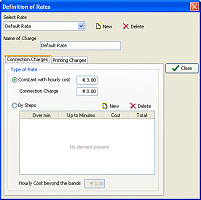 You can define different rates to charge your customers. For example, you can set one rate for students and another one for loyal customers, etc. The rate plan is associated to the customer in his personal user record. More...

---
User Groups
When using Softvision Explorer each user must belong to a Group. The user is assigned to a Group in his user record.
The user group defines what functions the client can access when he connects. In this way, for example, it is possible to define which programs the users in a certain group can run or which disks they are allowed, or denied, access to.
By defining several groups of users it is possible, for example, to group your clientele based on the level of trust you grant them.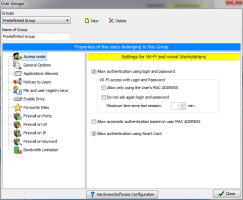 By defining several groups of users it is possible, for example, to group your clientele based on the level of trust you grant them. More...

---
Statistics
The Softvision Explorer archive contains a large quantity of data whose statistical analyses are a huge help in managing your business.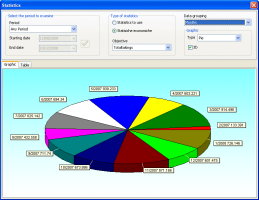 There are various types of graphs to display statistical results : bar, area, pie or line charts. The same data can also be displayed in table form. More...