Smart Card Readers and Writers in Internet Cafés
Softvision Explorer 4
software for Internet cafe is able to login in customers by using
Smart Cards
instead of the traditional username/password.
Our software is only guaranteed to work with Smart Card readers supplied by Softvision. There are currently two types of readers available for purchase:
ASEDrive-IIIe USB Reader

Modern Smart Card applications, such as digital signatures, Digital Certificates and PKI require high-performance from Smart Card readers. ASEDrive-IIIe has been designed to provide the maximum transmission speed in order to reduce communication times for more complex operations such as, for example, reading or writing Digital Certificates. In addition, ASEDrive-IIIe generates the maximum clock frequency in the Smart Card; this reduces the time required for complex cryptographic operations: ASEDrive IIIe is the fastest reader/writer available on the market for complex operations such as digital signatures. ASEDrive III is classified "Designed for Windows XP" by Microsoft
Principal Characteristics:
ISO7816 T=0/1 Smart Card Reader
Drivers for Linux and Mac OSX (USB versions only)
High communications speed for Digital Signatures and PKI systems
USB interface for the highest speed and maximum easy of use. Also available in a serial version.
Firmware always updatable
Keyboard with integrated ASEDrive-IIIe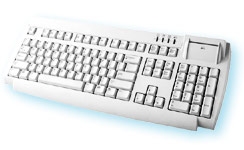 PS/2 or USB keyboard, Italian layout, with with incorporated ASEDrive IIIe Serial or USB Smart Card Reader.
The characteristics of the reader integrated into this keyboard are all identical to those of the USB reader. The main advantage of this solution is the greater elegance and compactness of the navigation workstation.

ASEDrive III Driver: driver for USB readers and keyboards with integrated reader.
Softvision - Via Cesare Battisti, 101 - 67051 Avezzano (AQ) ITALY - P.IVA 02081660660 | Privacy Policy - Cookie Policy