Smart Cards in Internet Cafés and in Cyber Cafés

Softvision Explorer 4
can use protected-memory Smart Cards to authenticate the customers of Internet Cafés.
Although our software works perfectly without Smart Cards we highly recommend using them because they are an excellent way of building customer loyalty and, at the same time, protecting confidential information. In fact, when you use Smart Cards, the customer doesn't need to choose and remember a login and password or tell the operator what it is, avoiding the privacy problems this creates.
There are various types of Smart Cards on the market, but not all are compatible with our software. For this reason, we only guarantee that Softvision Explorer will work with Smart Cards supplied by Softvision.
Smart Cards are normally blank, but it is possible to personalize them so that you receive them printed with your logo on one or two sides.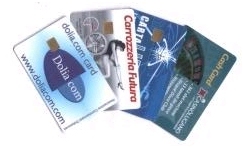 Softvision - Via Cesare Battisti, 101 - 67051 Avezzano (AQ) ITALY - P.IVA 02081660660 | Privacy Policy - Cookie Policy