Hotspot, Call Shop and Cyber Café Software : Economic and Use Statistics
The Softvision Explorer archive contains a large quantity of data whose statistical analyses are a huge help in managing your business.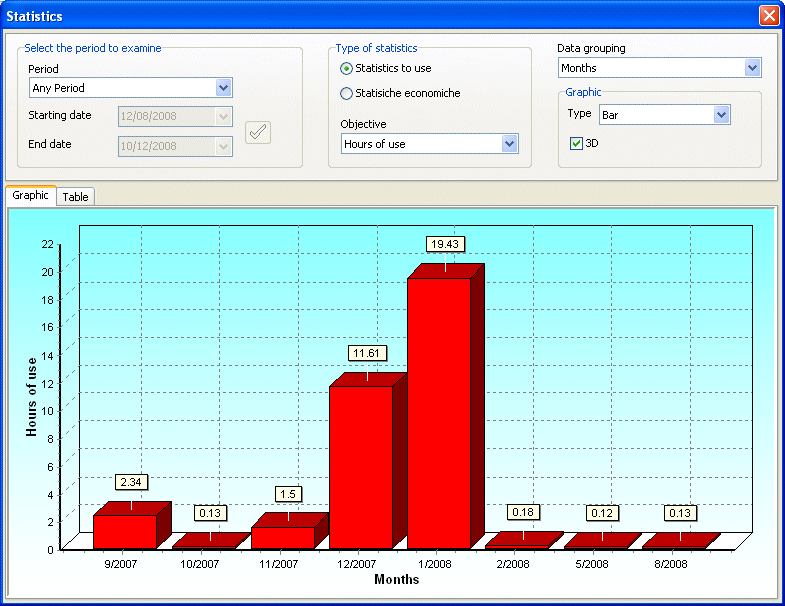 Mainly three pieces of information are necessary to compose a statistical analysis:
Period to consider
Allows you to set the historic period on which the statistics will be based. It is possible to specify this period by choosing from those pre-set or arbitrarily specify the start and end dates for the historic interval.
Type of statistics and objective
The program allows two types of statistics :
Use Statistics : regarding the use of certain resources. The objects can be: hours of use, accesses, number of customers, new customer registration, pages printed, and telephone calls made
Economic Statistics : provides an economic interpretation of data in the archive. The possible objectives of this type of statistics are endless : total takings, recharge takings, printing takings, takings per post-paid sessions etc.
Data grouping
The data processes can be grouped in different ways :
Months : the data are displayed month by month. For example, if you choose to analyse the number of hours of use over the last six months, the total hours will be displayed for each of these months.
Days of the Week : analyses the data based on the seven days of the week. In this way, for example, you can understand the days of the week with the most navigation hours.
There are various types of graphs to display statistical results : bar, area, pie or line charts. The same data can also be displayed in table form.
Softvision - Via Cesare Battisti, 101 - 67051 Avezzano (AQ) ITALY - P.IVA 02081660660 | Privacy Policy - Cookie Policy